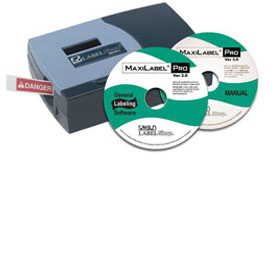 K-Sun LABELShop 2010-PC Shrink Tube & Label Printer - The K-Sun LABELShop® 2010-PC lets you easily design and print adhesive-backed labels wherever a professional label is needed. Connected with a USB cable, this compact printer can go anywhere your PC goes. Make labels on the job where needed. Powered by exclusive MaxiLabel® 5.0 Windows® based software, now you can use your full-size PC keyboard and screen to design and view the label you want to make. Use MicroSoft® Excel or Word files in .xls or .cvs formats to create labels with pictographs and barcodes for all your identification needs.
Machine Dimensions:

6 1/4" x 2" x 4 1/8"

Machine Weight:

.8 lbs.

Print Resolution:

180 dpi

Language:

Prints in English, Spanish, French, German and Greek

LCD:

PC computer screen

Characters:

500 ANSI safety symbols & signal words

Case Letters:

NA

Tape Colors:

81 combinations (size, color, and shrink combinations)

Character Memory:

PC dependent

Formatting:

Multi-line. PC designed

Label Length:

Adjustable

Tape Cutter:

Auto or manual

Certification:

Microsoft® WHQL certified and FCC approved

Software:

MaxiLabel® 5.0 software

Import Custom Graphics:

Logos, text, art, images, symbols, and more

Recommended Operating System OS:

Windows® Vista® – Basic, Home Premium, Business, Ultimate (x86 versions)
Windows® XP Pro SP2 & XP Home SP2
Windows® 2000 SP4 (32 bit versions), Windows 7, Windows 8

Wizards:

150 types of wizards

Tape Sizes:

1/6", 1/4", 3/8", 1/2", 3/4" and 1"

Shrink Tube Sizes:

1/8", 3/16", 1/4", 3/8" and 1/2"
Includes: Labelshop 2010-PC, (1) 1/2" Blk/Wht Tape, Software, Owners Manual, AC Adapter & USB Cable.
Supplies: Tape Sizes: 1/6", 1/4", 3/8", 1/2", 3/4" & 1" Tapes
Shrink Tube Sizes: 1/8", 3/16", 1/4", 3/8" & 1/2" Shrink Tube
PRICE: $44.95