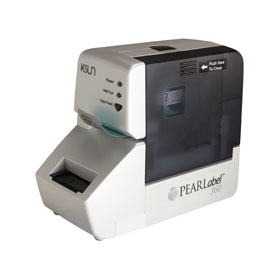 K-Sun PearLabel 360 Label Printer - The K-Sun PEARLabel™ 360 with MaxiLabel® Pro Ver.4.0 Labeling Software is Windows 7/8 and Mac® compatible. It's a new 360 dpi, wide format, heat shrink tube, wire wrap, and general industrial thermal transfer labeling system.
Prints on 126 different heat shrink tube and special labeling materials in sizes ranging from, 1/6" (4mm) to 1.5" (36mm) for labeling tapes and 15 heat shrink tube sizes and colors ranging from 1/8" up to 1/2" (AWG size range 1-22).
PEARLabel™ 360 uses K-Sun LABEL Shop® tapes and Heat Shrink Tube cartridges plus new wide format 1.5" (36mm) sizes.
Printer features a revolutionary edge trimmer called PeelGuard® that rounds sharp corners making labels stick better reducing waste.
Unique margin setting function allows users to reduce unwanted margin spaces down to 1mm, saving tape cost and waste when printing multiple labels.
Simple to use software makes 15 different popular Bar Codes including the ability to custom design and print QR and DataMatrix 2-dimensional bar codes.
MaxiLabel® Pro Ver. 4.0 has 839 built in symbols (ANSI, IMO, PPE, Target Organs and Signal Words) for creating safety signs and labels.
PEARLabel™ 360 has mobile printing capability with new K-Sun labeling app for iPhone® and iPad® devices.
Machine Dimensions

3.4" (85MM) W x 7.2" (182MM)D x 5.8" (146mm)H

Machine Weight

1.98 lbs.

Print Resolution

360 dpi / 384 dot

Barcode Formats

15 EAN 8, EAN 13, Code 39, Code 128, UPC-A, UPC-E, NW-7, ITF, EAN 128, GSI DataBar, Data Matrix, Micro QR Code, QR Code, Maxicode, PDF 417

Software

MaxiLabel Pro Ver 5.0 for Windows®, MaxiLabel Lite for Mac®

Database File Compatibility

.csv, .txt, .xls, .xlsx

Tape Cutter

Automatic tape cutter

Media Lengths

90.55 inch (10-2300mm)

Media Widths

4, 6, 9, 12, 24, 36mm tapes
3, 5, 8, 11mm shrink tube
24, 36mm cable
24, 36mm flag

Trimmer

Peelguard® Trimmer

Operating System

Windows® 7, 8 & 10 - 32/64; Vista 32/64; XP 32/64

Interface

USB 2.0

Power Supply

15+- 5% [V]

Ratings

Ratings UL, CE, GS [Level 5]

Warranty

Lifetime Warranty

Battery Options

None

Import Graphics

Yes

Line

Rounded, square, regular polygon, rounded rectangle, fan, continuous line, freeline, bezier curve

Wireless

No

Network Card Options

None

Symbols

839 Symbols, 8 Table Formats, 86 Borders, 158 Wizards

Multi Line Print

Yes

Print Rotation

Yes

Margins

.04 - 19.68 1-500mm

Markings

FCC CE WEEE

Print Technology

High Durability Thermal Transfer
Includes: Pearlabel 2360PCM, (1) 1 1/2" Blk/Wht Tape, (1) Print Head Cleaner Tape, Software, Owners Manual, Installation Guide, AC Adapter & USB Cable. **Lifetime Warranty**
Supplies: Tape Sizes: 1/6", 1/4", 3/8", 1/2", 3/4", 1" & 1 1/2" Tapes
Shrink Tube Sizes: 1/8", 3/16", 1/4", 3/8" & 1/2" Shrink Tube
PRICE: $219.00