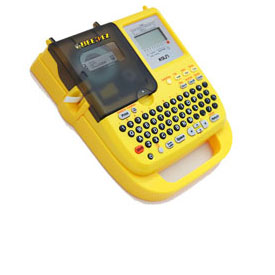 K-Sun LABELShop BEE3-EZ Shrink Tube & Label Printer - The K-Sun BEE3-EZ is a compact keyboard printer that creates custom adhesive-backed labels in over 60 different sizes and color combinations. It also can print on polyolefin heat shrink tube materials for wire and cable identification. Prints 8-Bar Code formats for making custom bar code labels for multiple uses in warehouses, plants, labs, electrical, office, maintenance and more. The BEE3-EZ printers are loaded with features to make labeling easier and better. Below is a list of key features that add up to a performance package you would expect only from larger, more expensive label printers.
• New Hot Keys make it very EZ to select type size and font styles eliminating confusing menu prompts.
• EZ snap-in cartridges for custom polyester adhesive labels, heat shrink tube supplies, fluorescent, magnetic, fabric, and glow-in-the-dark labels from 1/6" up to 3/4" wide.
• Eight new bar code formats for EZ identification requirements.
• New hot key for EZ access to cable/flag label formats.
• 3-year unconditional warranty for EZ fix to any problem. Best in the business!
Label Machine Dimensions

7.4" wide x 2.3" high x 8.8" deep

Label Machine Weight

1.23 lbs.

Print Resolution

180 dpi

Barcode Formats

8 barcode formats: Code 39, Code 128, ITF, UPC-A, UPC-E, CODABAR, EAN-8, EAN-13

LCD

LCD Prompts in English or Spanish.
LCD Display: 12 Characters, 2-Lines Dot Matrix STNLCD

Characters

14 Fonts, Bitmap Fonts Installed For Print Characters.
Symbols: 1,028 Special Industrial, Medical, Safety, Office, Home and General Symbols, Punctuation, Math, Arrows and More.

Tape Cutter

Automatic tape & heat shrink tube cutter

Tape Colors

60 Combinations (size, color, and shrink combinations)

Memory Storage

4 Files

Formatting

Multi-Line

Label Length

15", 90 Characters

Tape and Heat Shrink Tube Supplies

Two-In-One Tape:
• Flexible Polyester Base for Wire and Cable Wrap.
• Polyester Provides Durability and Permanent Adhesive
• Strength for Flat Surfaces Too.
• Solves Two Requirements With One Tape.
Tape Width Selection: 5-Widths- 1/6"(4mm), 1/4"(6mm), 3/8"(9mm), 1/2"(12mm), 3/4"(18mm)
Heat Shrink Tube Selection: Polyolefin Heat Shrink Tube Material in 1/8" and 3/16" Widths, Three Color Combinations

Environmental and Safety

Printer Runs on Safe 6.5V DC Power
• Conforms to FCC Class B Standards
• RoHS Directive: Parts Within RoHS Requirements and Standards
• Non-PVC Parts
• Low Battery Warning
• Overheat Detection and Power Shut Off
• Auto Text Storage When Power Out
• Automatic Temperature Sensor
• Battery Reversed Alarm
• Circuit Breaker
• LSAD Adapter: Meets All Requirements for California
Energy Commission's Minimum Efficiency and
No-Load Energy Reduction Standards

Cable Label Function

Cable Label "Quick Key" Speeds Design of Wire and Cable Labels

Power

Runs on Batteries- 6AA, AC Power Adapter-115-240V That Complies With California Energy Reduction Requirements & DC Auto & Truck Adapter-12V

Print Technology

High Durability Thermal Transfer

Label Tape Sizes

1/6", 1/4", 3/8", 1/2" and 3/4"

Shrink Tube Sizes

1/8" and 3/16"
Includes: Labelshop BEE3-EZ Printer, (1) 1/2" Black on White Tape, Ac Adapter & Owners Manual.
Supplies: Tape Sizes: 1/6", 1/4", 3/8", 1/2" & 3/4" Tapes
Shrink Tube Sizes: 1/8" & 3/16" Shrink Tube
PRICE: $99.00